It's time once again for Downtown Madness! Your chance to crown your favorite guest on Downtown and make your voice heard.
The brackets are below and you can vote for your favorites to move on in this battle to join the ranks of previous winners like Gary Thorne, Bob Lucy, and Chad Finn. The first round is now open until 11:45 p.m. on Sunday, March 21st in the Maine & Entertainment divisions!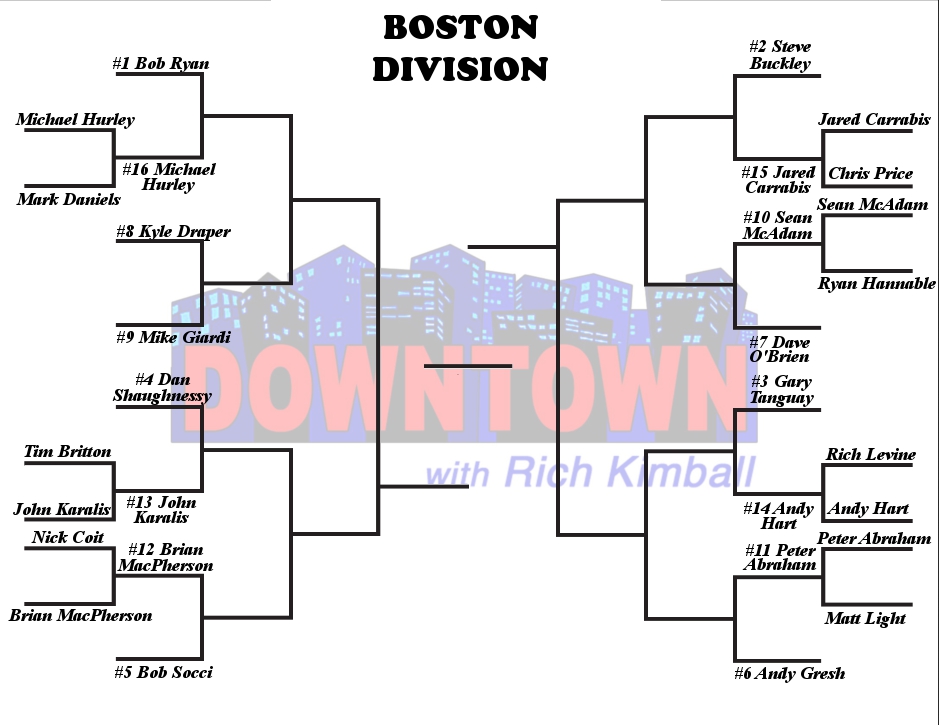 The results are in for out "Play-In" match-ups of Downtown Madness! Here is how all of our 19 spots ended up (results are in the percentage of the vote):
#16 Boston – Michael Hurley over Mark Daniels (60-40)
#15 Boston – Jared Carrabis over Chris Price (63-37)
#14 Boston – Andy Hart over Rich Levine (55-45)
#13 Boston – John Karalis over Tim Britton (55-45)
#12 Boston – Nick Coit over Brian MacPherson (53-47)
#11 Boston – Peter Abraham over Matt Light (62-38)
#10 Boston – Sean McAdam over Ryan Hannable (66-34)
#16 Maine – Ben Sprague over Gibran Graham (62-38)
#15 Maine – Aaron Jackson over Toby Nelson (56-44)
#14 Maine – Dan Hannigan over Gerry Monteux (72-28)
#13 Maine – Mark Emmert over Tim Bissell/Bob Cutler (65-35)
#12 Maine – Matthew Mulligan over Pat Callaghan (63-37)
#11 Maine – Pete Warner over Rob Caldwell/Caroline Cornish (58-42)
#10 Maine – Brian Sullivan over Johnny Mehler (76-24)
#16 Entertainment – Tim Sample over Michael Winslow (58-42)
#15 Entertainment – Bobby Hart over Little Anthony (56-44)
#16 National – Hilary Knight over Molly Knight (59-41)
#15 National – Rick Telander over Charles Leerhsen (59-41)
#14 National – John Scott over Demetrious Johnson (73-27)
Be sure to vote for the Maine and Entertainment Divisions. Voting in those brackets will be up and active until 15 minutes prior to midnight on Sunday with the final results being announced on Monday's Downtown. The Boston and National Divisions will be open for voting at 8 a.m. Monday until midnight on Wednesday.